---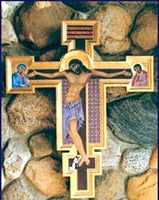 Abbey Note Cards / Series 1 :From the Abbey of The Genesse Assorted Icon Note cards. For any occasion these cards represent the finest quality card stock and a beautiful Icon on the front of each card. Inside the card is blank. Plenty of space for a personal message. On the back of the card is a message Written by Fr. John Eudes Bamberger of Genesee Abbey: 5 Assorted Cards in a pkg with enveleopes.Card size:6" heightx 4.5" width, comes with envelopes.

Assorted Icon Note Cards (5-pack) $12.00

Message on back of card: ". . . But dealing with Jesus whose nature was divine, meant that she was often baffled by his surpassing relation to the Father. So, she often suffered in the dark especially at the cross, but she learned to trust perfectly that way. She alone was selflessly oriented to God's will by a special grace from her conception.
$12.00