---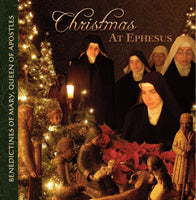 Christmas at Ephesus Benedictine Nuns CD
Celebrate Christmas with the Benedictines of Mary Queen of Apostles Monastery
23 Tracks Total playing time: 67:43
Celebrate A Traditional Christmas with the Benedictine Nuns of Mary Queen of the Apostles Monastery. The nuns at this Monastery sing with all their hearts the joy 
of the Christmas news. Order your copy of this CD today ! Fill your home with the
angelic voices of these Benedictine Nuns with loved Christmas songs.
$18.00
List of Songs
Angels we have heard on high
God Supreme I know Thee
Jesu Redemptor Omnium
Adeste Fideles
A Babe So Tender
O Come all ye Shepherds
Of the Father's Love Begotten
For Love of Me
The First Noel
Dies est Laetitiae
Lo, How a Rose E'er Blooming
Heart of the Infant King
In Dulci Jubilo
Sleep Holy Babe
O Beata Infantia
Holiest Night
King David's Royal Star
Puer Natus
In a Manger
Omnes de Saba
Silent Night
Puer Nobis Nascitur
Shepherd's Farewell