---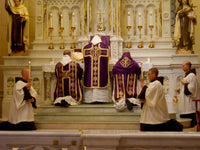 Donating To Our Monastic Life :
For 1500 plus years the Rule of Saint Benedict is central in the Benedictine Monastic Life. Ora et Labora, work and prayer is the motto of our way of life. We are a Traditional Latin Rite Benedictine Community we celebrate Mass in the Extraordinary Rite. The Liturgy of the Hours is Sung In Gregorian Chant. Although we try to be self sufficient, we humbly ask you to share any resources that you would like in helping us in our quest to continue our life of prayer.
Donating in the memory of a loved one as a memorial, or as gift in the name of someone from your family or even yourself is a permanent remembrance 
a most thoughtful of all gifts. Please let us know about your special way of
making a donation.
Your donation is tax deductible and your gift to us will help us to continue the Benedictine Legacy. Please select the amount you would like to donate in the drop down field. Blessings to you from all of us.