---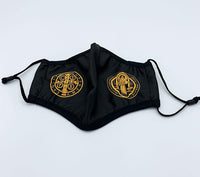 Masks-With Saint Benedict Medal Logo;  Wearing a mask today for many has become a new way of life. Our Very Unique Saint Benedict Medal Logo is imprinted on our Masks, but the famous Medal is known for protection from, evil, and for protection against diseases. Why not wear a Mask that has the sacred emblem of  St. Benedict ?
Made of Washable polyester fiber and cotton. May use with filter inside of mask for extra protection.
Order Yours Today ! Select Navy Blue, . Due to present popularity of these new arrivals, please place your order early . Black mask with gold Saint Benedict medal imprinted as shown.
$25.00 each
Mask Information:
Washable

Wash by hand or in a washing machine. If using a washing machine, use a gentle cycle and natural detergent. Air dry or machine dry on low heat.
 This product is: (1) not intended for use as a surgical mask or to provide liquid barrier protection; (2) not recommended for use in a clinical setting.
Mask filters/ Can use any type of added Filters