---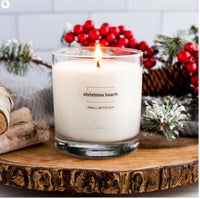 Monastery Scented Candle Christmas Hearth:
A classic Christmas Season fragrance that tells the story of a cozy holiday night spent sipping wine in front of the fireplace. Christmas Hearth combines Orange Peel, Cinnamon, Ginger Middle: Cypress, Clove Base:  Pine, Fir . notes from the kitchen, fir and pine notes from the Christmas tree, and an earthy smokiness from the fireplace.
Glass jar, 50 hours of burn.
$15.00