---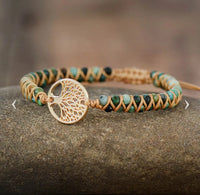 Turquoise Tree of Life Bracelet :
A double-layered, hand-strung bracelet made of dyed African Turquoise gemstone beads and finished off with a gold Tree of Life symbol. African Turquoise is known as the 'Stone of Evolution' The stones are delicate and the beauty of the color enhances any fashion. Religious by its symbol  the Tree of life represents the family of God and how we all connected to Him.
The Tree of Life symbol represents personal development, interconnectedness, and strength. Just as the branches of a tree strengthen and grow upwards to the sky, we too grow stronger, striving for greater knowledge, wisdom and new experiences as we move through life.
The bracelet has a single sliding knot closure. It's very easy to put on and take off, but also holds and stays on great!
This bracelet comes in a gift-ready white velvet bag!
$25.95
Additional Description
Material: African Turquoise or Map Stones / Alloy / Cord/ the Bracelet is much smaller then the enlarged picture to show the detail of the item, 
Size: 6"-10" Adjustable/to adjust the size gently pull on both side of the string
knot and adjust to your wrist size.
Metal Center Piece Color: Gold 
Cord Color: Yellow / Dark Coffee
Style: Borth women & men can wear

Closure: Single sliding knot closure